Astrofield
Version 1.3 release: Lives / Code re-write / Bugfix
---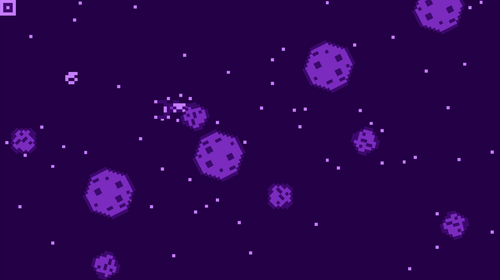 I am thrilled to be releasing this sooner than I expected to be able to! This update addresses the feedback I have gotten, as well as a bugfix and other optimizations.

Added "lives", I realized the lifeless system was too punishing. When you crash you lose one life and start at the beginning of your current level, if your lives are at 0 and you crash, you go back to Title. Easy mode gets 3 lives, Medium 4, and Hard 5 ***EDIT v1.5 gives 5 lives to each mode***. The amount of current lives shows on the heads up display, to the right of the Dodge-Roll icon, as amount of hearts.
Improved accessibility by adding right hand only keyboard options (IJKL, U, Y, SPACE) to mirror the left hand only option (WASD, E, R, SPACE)
Improved menu navigation by adding back arrows on the options and difficulty screens, as well as adding ability to go through the color pallets in reverse order.
Cleaned up the code! Fixed a bug that would occasionally cause the player to "double die", which caused some scenes to overlap on top of each other, due the occasional nature of the bug it took me awhile to find the cause, but I was really happy to finally squash it!
Optimized the code to increase speed of switching between screens. This code re-write makes this version super-duper stable and I highly recommend updating to this version before your next play session.
With this update out I am going to be shifting focus onto my next project, however if I get any comments, emails, reviews, suggestions, new pallets, bug reports, etc, I will be eager to address.

***Edit*** Just kidding on that last part about shifting focus! I'm actually working on a new update right now and I expect to have it finished and uploaded within a week (today being December 17th, 2020), so please stay tuned!

-Robotica

Files
Astrofield_Windows_v1.3.zip
26 MB
Nov 29, 2020
Astrofield_Mac_v1.3.zip
28 MB
Nov 29, 2020
Astrofield_Linux_v1.3.zip
27 MB
Nov 29, 2020